Our Self-Defense Classes Include Comprehensive Hapkido Training
Are you looking for an awesome way to learn effective self-defense skills and challenge your body to be stronger than ever before?
You've come to the right place. Take advantage of our exclusive FREE TRIAL. There's no reason not to give us a try.
At South West Self Defense Systems, our Self-Defense program is based on the skills and strategies of Hapkido, helping men and women learn the foundations of sweeps and takedowns while also getting in better shape. Classes are designed for ages 12 and up.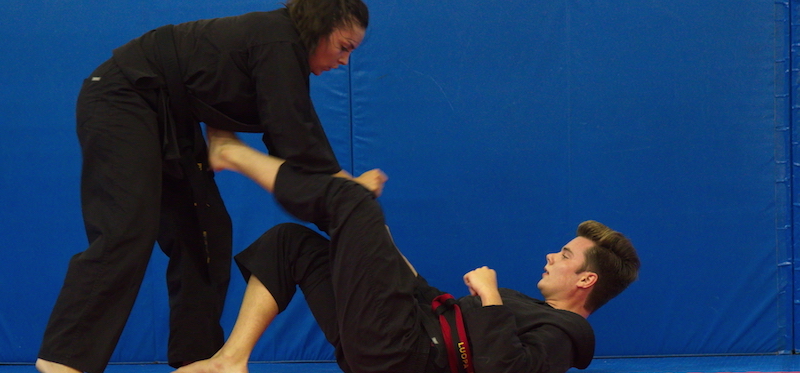 Join us in Murrieta and see it for yourself or simply click below to take advantage of our trial offers!
What Can You Expect From Our Self-Defense Classes?
Hapkido is a dynamic discipline that combines everything from close-range standing strategies to sweeps, takedowns, and ground grappling skills. At South West Self Defense Systems, we're helping you learn the the art of self-defense one step at a time and prepare yourself for both real-world and dojo settings.
Our team of instructors here in Murrieta is committed to the highest quality in everything we do and we work hard to maintain a facility that is free from egos and intimidation.
In our Self-Defense classes, you can take on skills like:
Takedowns and transitions from any position
Joint locks and ground grappling skills to help you maintain control
Powerful kicks, punches, and close-range strikes
Weapons-based self-defense strategies
And From Day One, We're Here To Challenge Your Body And See Results
Our Self-Defense classes are designed first and foremost for your safety and your ability to master the skills of Hapkido. But we also take pride in offering one of the most effective workouts in town. We keep your heart racing day in and day out and we push you to build lean strength and functional fitness across your entire body.
At South West Self Defense Systems, work with men and women of all experience levels.
Join us here in Murrieta today and take on:
Sustainable weight loss strategies
Lean muscle toning
Improved speed and athleticism
Boosted health and endurance
Don't Miss Out On The Best Self-Defense Classes In All Of Murrieta
At South West Self Defense, we're offering the best Self-Defense training in town and we can't wait to show you what we've got. Try our FREE TRIAL and experience the power of our training system with no commitments -- we guarantee you'll be back. Build your skills in the art of Hapkido and challenge your body like never before.
Click the button below to take advantage of our trial offers today!